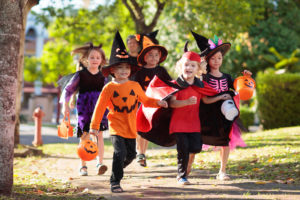 Boo! Scared yet? Every year around Halloween, many parents worry that the candy their kids collect during trick-or-treating will end up giving them cavities. While your children may consume more sugar this time of year than normal, it is possible to navigate the holiday without dramatically increasing the risk of tooth decay or other oral health problems. Here are 5 oral care tips from a children's dentist on how your family can maintain healthy smiles this Halloween.
#1: Opt for Dental Sealants
Before the pumpkin buckets are filled with candy, consider getting dental sealants for your children to help reduce the risk of tooth decay. Sealants are a thin protective coating made from plastic or other dental materials that are applied to the chewing surfaces of molars. Sealants keep out leftover bits of food – including Halloween candy – and harmful bacteria from the nooks and crannies on the chewing surfaces of the back teeth.
#2: Limit Sticky Sweets
From gummy worms to classic caramels, many popular candies are quite sticky and easily cling to teeth. However, the risk of developing tooth decay increases the longer that sugar stays in the mouth. For this reason, try to limit the consumption of sticky sweets and instead choose chocolates or powdery candies like sweet tarts. These types of candies dissolve faster and are more easily washed away by saliva.
#3: Avoid Snacking Throughout Day
Snacking on candy throughout the day gives the bacteria in the mouth even more opportunities to feast on sugar and, in doing so, produce harmful acids that wear down enamel and lead to tooth decay. The better route for your children to consume their Halloween candy collection is to include a few pieces as a desert alongside or shortly after a meal. The increased saliva production that occurs when eating a full meal will help wash away bits of food and sugar from their teeth.
#4: Know How to Handle a Dental Emergency
Accidents can happen when we least expect them – even when out trick-or-treating with your kids. If your son or daughter suffers a dental emergency this Halloween, your first step should be to call an emergency dentist. Whether they have knocked a tooth loose or are experiencing a painful toothache, your dental professional will likely be able to fit them in with a last-minute appointment to provide them the urgent dental care they need.
#5: Schedule a Dental Checkup with a Children's Dentist
Hop on your broomstick and fly over to a children's dentist this fall for a professional teeth cleaning and dental exam! Regular visits to the dentist are a chance to have harmful plaque and tartar expertly removed from your children's teeth. In addition, their dentist will examine their teeth, mouth and neck for signs and symptoms of emerging oral health problems and treat them before they can worsen.
You do not have to be scared about your children developing cavities during the spooky season! Stay smiling this Halloween by following the 5 oral health tips above.
About the Author
Dr. Aarati Kalluri is dedicated to helping patients of all ages achieve and maintain healthy smiles. The proud graduate of the University of California in San Francisco is a mother of two herself, so she can relate to parents' concerns about their children's oral health. Parents interested in sealants for their children or additional oral care tips can visit the Infinity Dental Care website or call Dr. Kalluri at 503-352-5116.