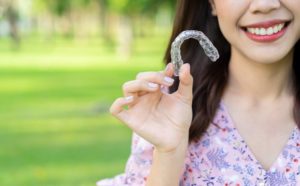 Whether you're interviewing for your dream job, going on a first date, or training a new employee, straight teeth make a lasting first impression. In a recent perception study, people with straighter teeth were "21% more likely to be seen as happy, 47% more likely to be viewed as being healthy and 38% more likely to be perceived as smart." Straight teeth aren't just about looks either! They have a lasting impact on your overall health too, from healthier gums to fewer headaches.
Which might be why you and 7 million other people decided to get Invisalign. But now that you have them, what can you expect your daily life to look like as an adult with invisible braces? Invisalign in Hillsboro lets you continue to put what's important to you first while straightening your teeth in the background.
The Invisalign Diet
Between work, errands, friends, and family, your schedule is too busy to be a picky eater! Invisalign alignment trays are removable so that you don't have to say goodbye to your favorite foods for straighter teeth. Feel free to enjoy popcorn at the movies, make that family- favorite dinner, or grab a handful of almonds on your way out the door to work. Just keep a toothbrush with you and brush your teeth before popping your aligners back in place.
Straight Teeth on Your Time
Invisalign works to fit into your current lifestyle so you can feel free to smile as your teeth get straighter. You can continue playing both sports and instruments without Invisalign aligners getting in your way. If you wear a sports guard or play a woodwind or brass instrument, simply remove your aligners beforehand and replace them when you're done. Just be sure you're wearing your Invisalign aligners for at least 20-22 hours a day.
Social Situations
The only people who will know about your orthodontic treatment are the people you tell. No will notice your aligners as you give presentations, teach classes, go on dates, or have dinner with your in-laws. Invisalign aligners may feel strange and maybe even a little uncomfortable the first few times you wear them, but this is normal. Your teeth will adjust quickly, and you will hardly notice them there.
Getting straighter teeth while juggling your diet, hobbies, and social life doesn't have to be a pain. Invisalign can fit into your busy lifestyle so you can smile as your teeth get straighter!
About the Author
Dr. Aarati Kalluri is a graduate of King George's Medical University in Lucknow, obtaining both her Bachelor of Dental Surgery and Master's Degree in Prosthodontics. She believes a happier, healthier smile is important to patients of all ages, which is why Infinity Dental Care offers an array of preventive, restorative, and cosmetic services, including Invisalign. If you would like to know more about how to take care of your Invisalign aligners, she can be contacted at her website or at (503) 352-5116.