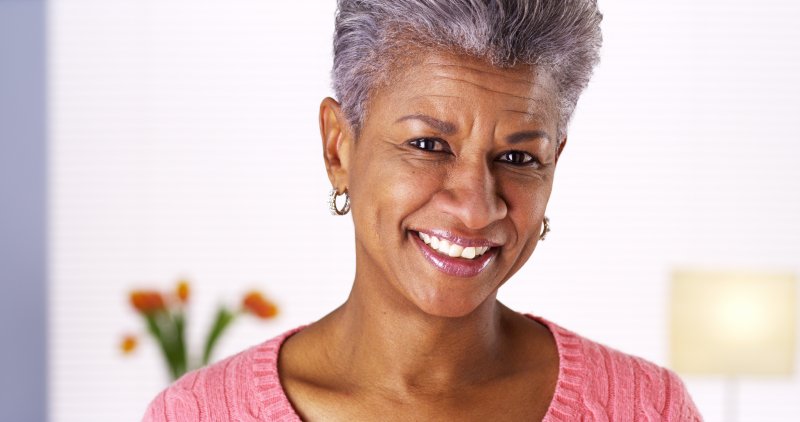 Life without a full set of teeth can be quite tough, but with the placement of dental implants, you can once again eat the foods you love and smile with confidence. Because the implant procedure is rather involved, it's important that you work with the right dentist. Read on to learn why implants are, hands-down, the best option for replacing your missing teeth. Additionally, you'll discover what separates the care you'll receive from Dr. Kalluri and the staff at Infinity Dental Care from other practices!
The Difference That Dental Implants Make
Dental implants are unlike any other form of tooth replacement. That's because all others simply replace a tooth from the gum line up, which limits the amount of stability and durability that they can provide.
A dental implant, which is a cylinder-shaped post made from durable titanium, is surgically inserted into your jawbone to provide a sound foundation to support a permanent restoration. Not only will you be left with a functional replacement, but you'll also have a more aesthetically pleasing smile.
Why It's Critical to Find the Right Dentist
Across the board, the dental implant process has a 95% success rate. To uphold this high standard, the right dentist will have the knowledge and experience necessary to successfully complete the implant procedure, while also taking a careful and calculated approach to every step of your care. There are several other nuances that a highly skilled professional will bring to the table.
The Distinguishing Qualities of Infinity Dental Care
Here are some other key features that are vital to the dental implant process being successful, and that are unique to Infinity Dental Care:
X-Guide Technology – Dr. Kalluri uses the latest in X-Guide navigation for pinpoint accuracy when preparing the jawbone for implant insertion.
CEREC One-Day Crowns – Typically, the dental implant process can take months to complete. Using the advanced technology of CEREC custom-crafted ceramic crowns, we can replace a single tooth, in totality, in just one visit.
Unique Office Hours – We know that life can get quite busy. To accommodate your challenging schedule, we offer extended hours on Mondays. Better yet, we're even open on Fridays, which is uncommon for most dental practices in our area.
Happy Patients – There's nothing like hearing from satisfied patients, so we invite you to read our online reviews to discover what you can expect from Infinity Dental Care.
While it's unfortunate to be without any number of missing teeth, it's comforting to know that there's an implant dentist in your area who possesses an equal amount of patience, friendliness and expertise to help you once again enjoy a normal life!
About the Author
Dr. Aarati Kalluri earned her dental degree from the University of California in San Francisco. To further expand her knowledge, she has received advanced training in dental implant placement. Dr. Kalluri is eager to help you get your life back on track by rebuilding your smile with dental implants at Infinity Dental Care, and she can be reached for more information through her website.