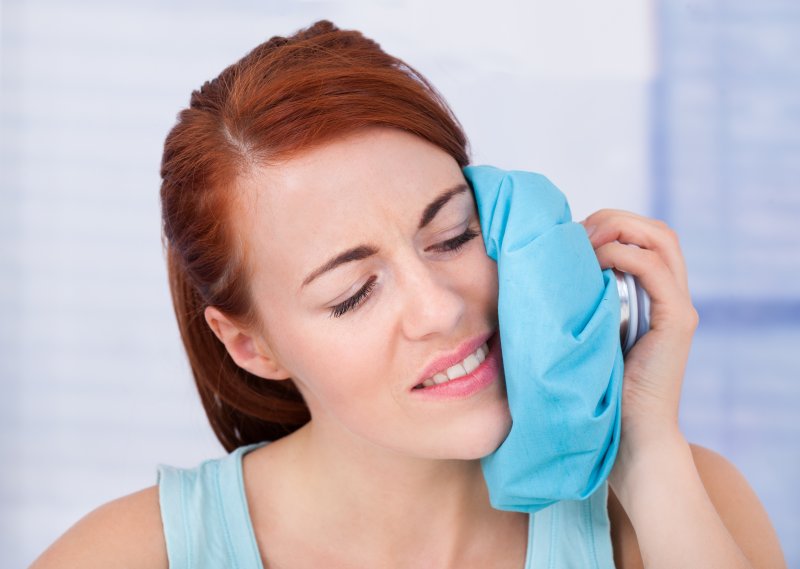 Are you having dental implants placed in your near future? You have a lot to look forward to! Not only will you have your beautiful smile back, but you will also be able to avoid bone shrinkage and restore up to 90% of your natural chewing power. However, before you can reap the benefits, you need to allow them to heal properly. Read on for some dental implant aftercare tips so your new pearly whites will be good to go!
Control Bleeding
You may notice that bleeding continues from the implant site for up to 72 hours after your implant is placed. To keep this from happening, bite down on gauze for about an hour. Continue to do this for about every 6 to 10 hours as necessary. You could also try to bite down on a moist black teabag to allow the area to clot more easily.
Reduce Swelling
Swelling and bruising is not uncommon the day after you get surgery. To minimize this, place an icepack on your cheek for about 15 to 20 minutes. Drink plenty of water and try sleeping in a propped-up position.
Manage Pain
Like any procedure you may get, you are bound to feel some discomfort afterwards. The good news is that this should ease in a few days after surgery. Until then, use an over-the-counter pain reliever that your dentist recommends. Acetaminophen and ibuprofen are popular options. You should begin taking it just before the local anesthetic wears off.
Get Some Rest
Most patients are able to return to work after a couple days, but if your job is physically demanding, it is best to wait about a week before returning. Make sure that you are getting at least 8 hours of sleep each night. Being well-rested helps the healing process to progress more smoothly.
Maintain Excellent Oral Hygiene
During this healing period, it is especially necessary to maintain a good oral hygiene routine. If you aren't keeping the area as clean as possible, you are more likely to experience an infection. This is the number one cause of implant failures. You should brush and floss as normal but avoid the site of the procedure. After meals, rinse your mouth with a glass of warm water and a teaspoon of salt to remove debris.
Eat Soft Foods
You will want to avoid hard, crunchy, and chewy foods during the initial healing process. Remember to chew on the side of your mouth where your natural teeth are and avoid hot foods and drinks. Don't use a straw or swish liquids over the surgical site.
Don't Smoke or Drink
Drinking alcohol and smoking can negatively impact the healing process. Don't drink alcoholic beverages for at least 72 hours after the procedure and refrain from smoking for at least two months after your surgery.
See Your Dentist
Check in with your dentist after your procedure. This way, they can make sure that everything is looking good and give you additional recommendations going forward.
By using the dental implant aftercare tips listed above, the healing process will be a breeze! You will be using and showing off your new smile in no time at all!
About the Author
Dr. Aarati Kalluri is an experienced dentist who has been working in the field for well over 20 years. She completed her Bachelor of Dental Surgery and master's degree in Prosthodontics in India before attending the University of California in San Francisco and earning her Doctor of Dental Surgery. She has undergone advanced courses in implant dentistry. For more information on dental implants or to schedule an appointment at her office in Hillsboro, visit her website or call (503) 352-5116.