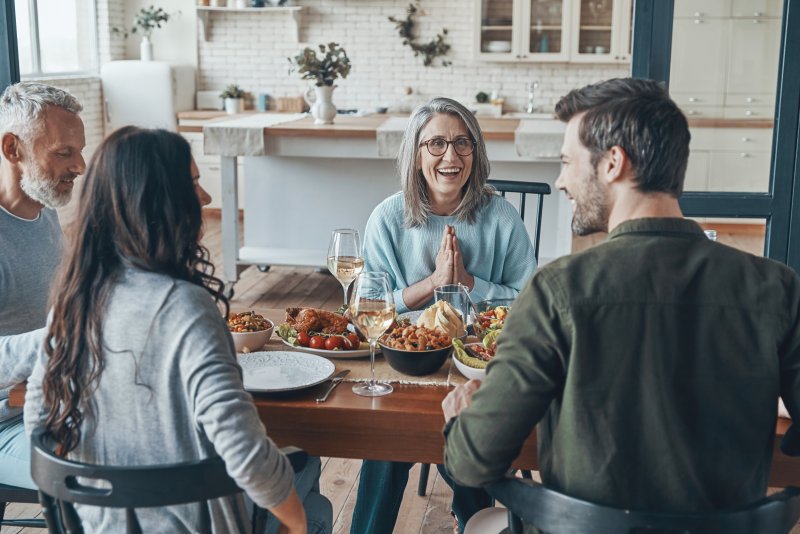 The air is crisper, the leaves are changing colors, and October is officially here. Do you know what that means? Thanksgiving will be here before you know it! The delightful holiday is not only about the feast, but of showing gratitude and giving thanks. And if you have dental implants, there are plenty of reasons why you should be thankful for them this holiday season. Read on to learn why your new smile deserves some love and appreciation this Thanksgiving.
Dental Implants Improve Your Speech
It may surprise you to learn that teeth play a crucial role in helping you form specific sounds with your tongue. If you're missing one or more teeth, you may find it challenging to speak clearly, causing speech alterations or impediments. Fortunately, dental implants are an excellent, life-long solution that remains in place. Unlike other restorative options like dentures, you don't have to worry about your artificial teeth slipping and sliding around while you speak! Plus, since implants function like natural teeth, they allow your words to flow easily and clearly.
They Allow You to Eat Your Favorite Foods
If you have missing teeth, you may find it more difficult to chew. That's because your pearly whites play a significant role in your ability to chew and digest food properly. Thanks to dental implants, you can comfortably eat your favorite foods once again! Since they're durable, you can indulge in almost any type of food without damaging your new smile.
You Can Enjoy Good Oral Health
When you have gaps in your smile, the areas surrounding the spaces become vulnerable to decay and infection. By replacing the missing tooth with a dental implant, you can promote new bone growth and prevent your remaining teeth from weakening and needing future dental procedures.
They're Low Maintenance
Because dental implants are just like natural teeth, they don't require special care beyond the recommended oral hygiene habits. Brushing your teeth twice a day and flossing daily is all that's needed to keep your smile healthy. These essential practices help remove any built-up plaque and bacteria that could lead to dental problems. Don't forget to see your dentist bi-annually for checkups and cleanings as well!
Dental Implants Prevent Bone Loss
Your tooth roots actively maintain the strength and health of your jawbone. Without them, your bone will begin to deteriorate, causing a sunken facial appearance. Luckily, since implants are inserted directly into the jawbone, they restimulate your bone and promote its health and growth. They'll preserve your facial structure, helping you look young, natural, and stunning!
As you can see, there are several reasons why you should be thankful for dental implants this Thanksgiving. Not only can they restore your smile, but your confidence as well – and that is priceless!
About the Practice
At Infinity Dental Care, we care about than just your teeth – we care about your body too. Our team will always go the extra mile to provide exceptional, state-of-the-art, compassionate dental care that'll help keep your health in optimal condition. If you have missing teeth, we can restore your smile and confidence with dental implants. To learn more, visit our website or call (503) 352-5116.