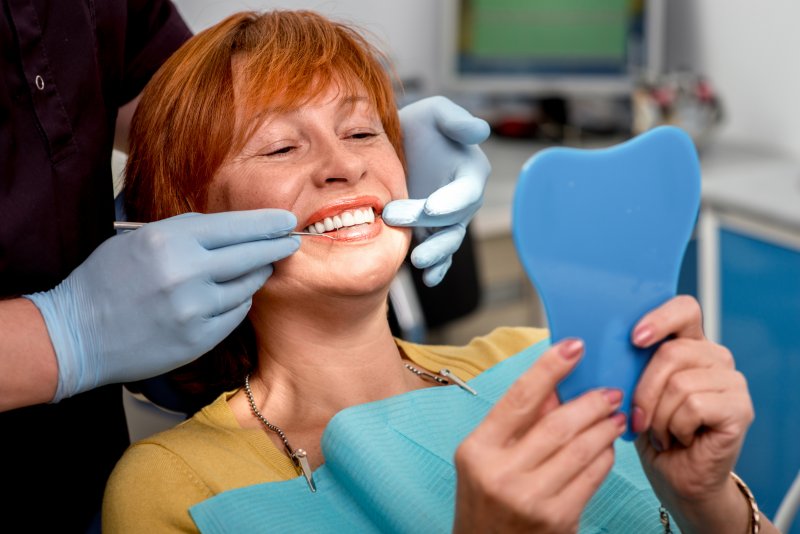 Everyone wants a perfect white smile. Whenever someone loses a tooth due to damage, trauma, decay, or infection, it can significantly affect their self-esteem. Luckily, dental implants make it possible to enjoy a complete, beautiful, fully functioning grin once again. Not only do implants look like natural teeth, but they act like them as well. For that reason, you must take proper care of your new smile to prevent it from getting damaged or stained. Read on to learn more about dental implant discoloration and what you can do to ensure your artificial teeth look their very best for years to come.
Can Dental Implants Become Discolored?
Yes! Even though dental implants are made from stain-resistant porcelain material, they can still become discolored over time. If you take proper care of the glaze on the surface of the implants, you can keep them from getting stained. Polishing your implants with abrasive materials or treating them with acid fluoride treatments will cause the surface to become rough, increasing your risk of discoloration.
It's also worth noting that while the dental implants themselves may not become discolored, the bonding material holding them in place can get stained. Fortunately, it's relatively easy to fix this type of discoloration. Your dentist can professionally polish the implants to restore their natural beauty.
How to Take Proper Care of Your Implants
Since dental implants are so similar to natural teeth, you must take care of them in the same way. Here are a few steps you can take to keep your new smile looking its very best for as long as possible:
Avoid Poor Habits
Smoking and chewing tobacco can discolor your implants, giving them a yellow or brownish appearance. Additionally, these poor habits can increase your chances of dental implant failure. If that happens, you'll need to replace your restorations sooner than anticipated. That said, now's the perfect time to kick these bad habits to the curb.
Stay Away from Dark-Colored Foods and Drinks
Certain items like coffee, tea, red wine, and berries contain a naturally occurring substance known as tannins. That substance works with chromogens and acid to corrode teeth and leave behind dark stains, which can only be removed by a dental professional.
Do Not Use Abrasive Toothpaste
Believe it or not, your regular toothpaste may be abrasive enough to damage your ceramic or porcelain implants. Even though it'll clean your teeth, it can still lead to staining. That's why it's incredibly important to only use non-abrasive toothpaste when cleaning your implants.
Clean Your Teeth After Every Meal
Foods can leave acid and other chemicals behind, many of which can damage or discolor your teeth. About half an hour after eating, you should thoroughly rinse your mouth and brush your teeth to eliminate those harmful chemicals.
Ultimately, the best way to keep your dental implants in optimal condition is by taking proper care of them. By following the tips outlined above, you can ensure your new smile stays bright and shiny for years to come!
About the Practice
At Infinity Dental Care, we provide exceptional, comprehensive, state-of-the-art dental services that the entire family can enjoy. Our team uses advanced technology and the latest techniques to ensure you receive the best treatment possible. If your dental implants have become discolored, don't hesitate to give us a call. Visit our website or call (503) 352-5116 to make an appointment today.