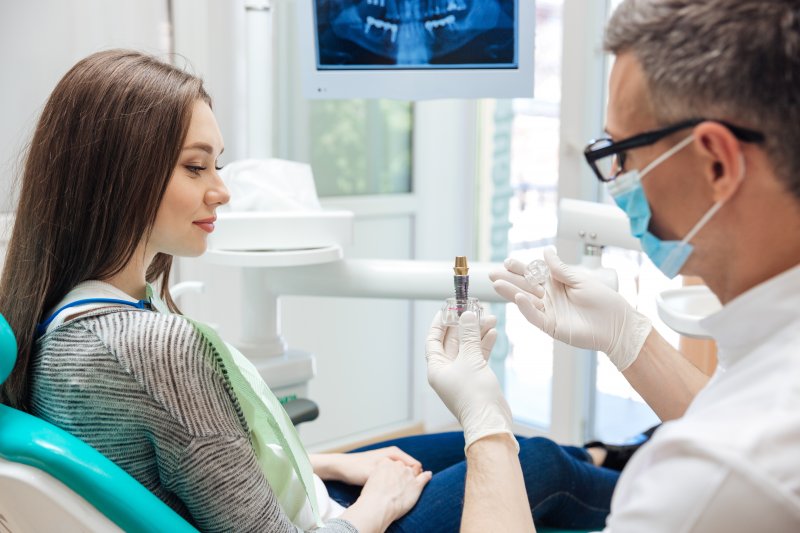 As it turns out, the price of dental implants isn't random. Dentists have good reason to charge what they do for these replacement teeth. That said, your treatment estimate will depend on factors unique to your situation. Knowing the former, in other words, comes down to knowing the latter. Fortunately, your Hillsboro dentist can help you learn the special factors at play. If you're interested, here's a summary of four things that will impact your dental implant cost.
Number of Implants Placed
It only makes sense that you'll pay more for dental implants when you have more placed. The price will increase for every additional implant you have fitted to your smile.
You may want to try an alternative if you need more than three replacements. A denture or bridge, for instance, is an affordable choice when replacing several teeth. You could also consider implant-retained dentures.
Placement Procedures
Today, implant placement uses computer technology. As a result, it comes in one of two types: static or dynamic.
Static placement takes scans of your mouth beforehand to make guides for the surgery. It involves lab work, so it requires more time and cost.
Dynamic placement uses software to guide the surgeon's hand during the procedure. Compared to the static type, it's pretty cost-effective and less time-consuming.
Need for Additional Surgeries
Whether you need additional surgeries will also influence the price.
For instance, look at tooth extraction. You'll pay more if you have one or more of your teeth pulled before implant surgery.
On the other hand, you might need a sinus lift or bone graft to place healthy bone that'll support your implant. If so, such "add-ons" will add to your expense.
Dentist Expertise
Naturally, the amount charged will partly depend on a dentist's expertise. The more highly-trained and experienced your dental surgeon, the more you may need to pay. That fact applies to implants as much as any other tooth restorations.
Some oral surgeons obtain greater implant knowledge by completing medical school following their dental program. Such individuals will be pricier than their less-experienced and credentialed counterparts.
Don't make your dental implant cost higher than it needs to be. Remember the factors above when deciding on your ideal treatment!
About the Practice
Infinity Dental Care is based in Hillsboro, OR. As led by Dr. Aarati Kalluri, the practice strives to be the ideal dental home for patients of all ages. That said, its staff offers preventive, cosmetic, and restorative dentistry, including emergency procedures when necessary. These services are top-of-the-line thanks to relying on advanced dental technologies. For more information or to book an appointment, you can reach them on their website or by phone at (503)-352-5116.