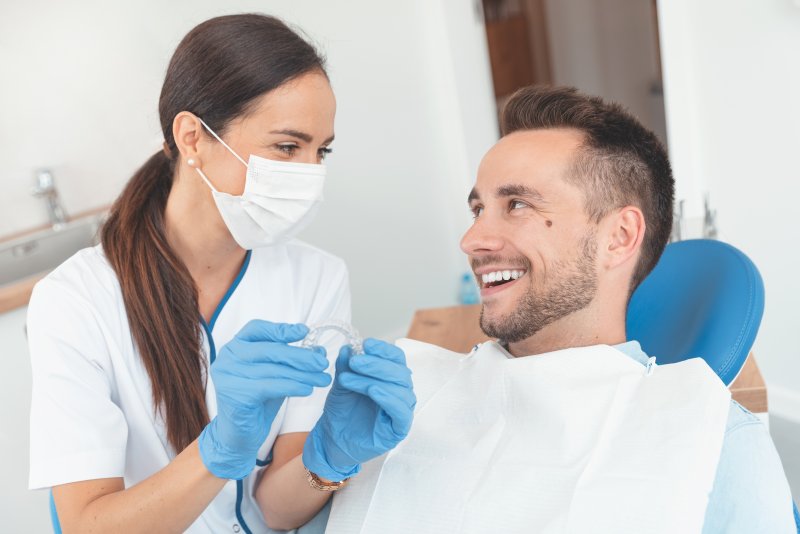 As you might know, Invisalign is often more convenient than traditional metal braces. Its aligner trays are clear and discrete and also removable for meals and oral care! Despite the convenience, though, you probably don't want to go through treatment forever. That said, it's essential to know how much time your aligners will need to straighten your teeth. Thankfully, your local Hillsboro dentist is here to help with an answer. Read on to learn some essential facts and tips about the Invisalign timeline.
How Long Does the Invisalign Process Take?
According to Invisalign's makers, the average treatment takes about a year or so. However, the timeline for your straightening will vary based on your situation. Each person's teeth move at a different pace, so your aligners may need more or less time to work. All in all, how long your trays take will depend on your jaws, gums, genetics, and even your diet.
Orthodontic Issues Impact Treatment Time
The most significant influences on your treatment time will be the orthodontic issues you want Invisalign to correct. These might include:
Severe Alignment Problems
If your smile is especially crooked or twisted, Invisalign will need to make more in-depth changes to straighten it out. Your orthodontist may end up using several approaches. Given these facts, you can expect your aligners will take longer when you have a severe misalignment.
Crowded Teeth
Invisalign can easily fix crowded teeth, but the timing can vary. If you only have mild crowding, your correction may only take six months. Severe crowding, however, could extend treatment beyond the one-year average.
Gaps Between Your Teeth
Gaps between teeth can happen due to your gums' structure. They can also occur due to tooth loss or teeth growing improperly.
Whatever the cause, tooth gaps could extend your treatment. Your aligners will need more time to move the gapped teeth closer together.
Tips for Speeding Up Invisalign
Fortunately, there are things you can do to speed up your Invisalign progress. Try following these three tips in the future:
Remember the 22-Hour Rule: Most orthodontists recommend that you wear your aligner trays for 20-22 hours per day. When you do so, your teeth move toward alignment in the shortest time.
Change Your Aligners on Schedule: When you don't change your trays on time, you slow your teeth's correction. The same applies to wearing your trays out of sequence.
Be Patient: You might feel tempted to stop treatment early out of frustration or a seeming lack of results. Even so, don't give up! Remember that the movements take place in small increments.
While you can't make your Invisalign timeline near-instant, you do have the power to make it shorter or longer. Therefore, talk to your dentist to learn more about making the process quick and smooth!
About the Practice
Infinity Dental Care is locally owned, operated, and based in Hillsboro, OR. As led by Dr. Aarati Kalluri, the practice performs comprehensive dental services for all ages. Therefore, its staff offers high-quality preventive, cosmetic, and restorative services, including emergency dentistry. The team is also a certified provider of Invisalign aligners for orthodontics. For more information or to book an appointment, you can reach them on their website or by phone at (503)-352-5116.