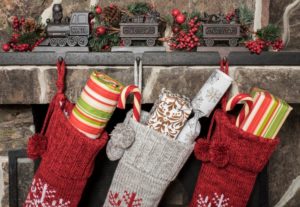 It's that magical time of the year! Family festivities, delicious meals, and exchanging presents are abundant during the holiday season. As you make your list of gifts to buy for your loved ones, you can include some that are also good for their oral health! Read on for three stocking stuffer ideas that are sure to bring healthy smiles all year long.
Creative or Electric Toothbrushes
Modern times have made brushing your teeth a lot more exciting for children and adults alike. There are endless fun toothbrush options toothbrushes for kids. You can purchase one that has their favorite animated character on it, plays music, or even one that plays music! An engaging toothbrush will make them look forward to brushing every morning and evening. Electric toothbrushes are an excellent choice because not only are they fun, but they've proven to be more effective at keeping plaque and bacteria at bay. It's a great gift idea, especially for those who aren't willing to spend a bit more money on an electric toothbrush themselves.
Fun Dental Products
There are so many awesome dental products available now! Children can be reluctant to use oral hygiene products due to their minty flavor. As a tasty replacement, you can give them fun-flavored floss, mouthwash, and toothpaste to help them stick to their daily dental routine. They offer a broad range of flavors like bubblegum and fruit punch, providing new tastes to make brushing more enjoyable. Be mindful to buy items that are fluoridated and have an ADA Seal of Approval. If you have a child under the age of two, you can ask your dentist for toothpaste recommendations that are safe for their teeth and gums.
Smile-Friendly Snacks
The holidays are full of candy, pies, and special baked goods. They even start to end up in stockings! Although treats can be enjoyed in moderation, you can add a healthier variety as little gifts that are given. You can toss in healthy snacks such as more expensive nuts like macadamia, gourmet pretzels, or sugar-free gum.
How to Maintain a Healthy Smile Year-Round
Helping you and your loved ones take care of their teeth even during the holidays is a valuable gift! But nothing replaces great oral care throughout the whole year. Cleaning your teeth can never be overemphasized! Always brush at least twice a day for two minutes minimum. Flossing is another essential routine—it removes unseen particles that can accumulate and lead to plaque and bacteria. Cleaning thoroughly between your teeth ensures you are reaching those hard-to-reach places that a toothbrush cannot!
With these great oral health gift ideas, you are sure to bring healthy and bright smiles all year long to your loved ones.
About the Author
Dr. Aarati Kalluri and her team at Infinity Dental Care serve the families of Hillsboro and the surrounding areas. With over 20 years of experience, she provides a full range of dental services, including preventive, restorative, cosmetic, and emergency care. She loves to help you and your family achieve the healthiest and most beautiful smile all year long! To schedule an appointment, contact her through her website or call (503) 352-5116.