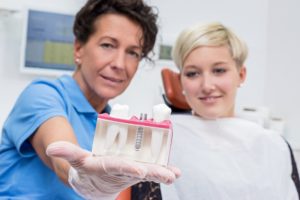 Dental implants are a great investment because they can last for decades. With predictable results and over a 95% success rate, you'll never have to worry about replacements. As the only treatment to replicate both the root and the crown, dental implants offer exceptional benefits not possible using other methods. Your first step to a complete smile involves oral surgery to place implant posts in your jawbone, which means you'll have a bit of a recovery ahead of you. Here are the answers to 5 frequently asked questions about recovering from dental implant surgery.
1. Can I Drive Myself Home?
Sedation will be used to keep you comfortable during the procedure. While you won't feel anything during your surgery, it can take a few hours for the effects of any sedatives to dissipate. You'll need a friend or loved one to drive you home. Your implant dentist will instruct you to rest for at least the first 24 hours.
2. What If I Notice Bleeding After I Leave the Office?
Don't be alarmed if you notice any bleeding after arriving home. Bite on a piece of gauze for 20 minutes, and change it as needed. If you can't control the bleeding, contact your dentist for further instructions.
3. What Can I Eat?
You'll have to watch what you eat for a while to avoid putting too much pressure on the dental implants, which can delay healing. You'll be instructed to stick to a liquid diet for 1-2 weeks. After that time, you'll need to eat soft foods until your dentist gives the go-ahead to introduce your regular diet.
4. Will the Recovery Be Painful?
You can expect your mouth to be tender for a few days, but you can manage any discomfort using a prescribed or OTC pain reliever as recommended by your dentist. Applying a cold compress to your mouth can numb the area temporarily while reducing any swelling or bruising.
5. How Long Will It Take to Heal?
Everyone heals at a different rate. The surgical sites will be healed in a couple of weeks, but it can take many more weeks for your jaw to fuse to the posts. Osseointegration is essential for ensuring the success of your new smile. You can avoid healing delays by following your dentist's instructions, like not smoking. Your dentist will monitor your healing to determine the best time to move forward with the restoration phase of your treatment.
Don't worry if you have questions about the road ahead. Your dentist will explain everything and address any concerns to ensure you know exactly what to expect before and after your dental implant surgery.
About Dr. Aarati Kalluri
Dr. Kalluri earned her Bachelor's degree in dental surgery and a Masters degree in Prosthodontics at King George Medical University. She earned her Doctor of Dental Surgery degree at the University of California in San Francisco and has regularly continued her education in advanced services, like dental implants. Request an appointment through our website or call (503) 457-4651.